Freedom United promoting global standards in New York
Campaign Update November 16, 2020: Costa Rica has officially ratified the Forced Labour Protocol
Statment from Costa Rica's Ambassador to the United Nations, Rodrigo Carazo Zeledón:
Last year on the ocassion of the International Day for the Abolition of Slavery, Costa Rica made a firm commitment to fight against modern slavery and forced labour in our country by accepting Freedom United's call to action to ratify the International Labour Organization's Forced Labour Protocol.

I am proud to say that last week, Costa Rica became the 46th country to ratify the Protocol. We stand firm in its implementation the Forced Labour Protocol and will continue to be committed to eradicate modern slavery in our country and to ask the other countries in the region to do so.
Freedom United has entered into a partnership with the United Nations Association of New York, to promote the ratification of the 2014 Forced Labour Protocol with members states, at the United Nations Headquarters in New York. Freedom United has gathered over 100,000 signatures supporting the International Labor Organization's (ILO) 50 For Freedom campaign.
On December 6, Freedom United organized a roundtable discussion hosted by the Permanent Mission of Costa Rica, to discuss forced labor in the Latin America region and were joined by speakers representing the ILO and Permanent Mission of Mexico. Ambassador Rodrigo A. Carazo of Costa Rica accepted Freedom United's petition and committed to expediting the process of ratification of the Forced Labour Protocol.
"The government of Costa Rica is pleased to join Freedom United's call to action to ratify the ILO Protocol on Forced Labor. Today, more than 40 million people still live in modern-day slavery. We believe this Protocol is a catalyst for change towards a world free of modern slavery and we committed to join the quest against forced labor. Costa Rica is committed to eradicating all forms of modern slavery and will continue to work to end forced labor" – Ambassador Rodrigo A. Carazo
During the roundtable event, thousands of Freedom United supporters tuned in live via social media to follow the event.
Pictured is our Advocacy Officer Herrana Addisu, @ILO Data Science Officer Dr.Kelly Gleason, and the Permanent Representative to the Costa Rican UN Mission H.E. Mr. Rodrigo A. Carazo accepting our petition @ILO_EndSlavery @UNANYC @CostaRicaONU @etuc_ces @ituc @STOPTHETRAFFIK pic.twitter.com/ZQGCRfOQAK

— Freedom United (@freedomunitedHQ) December 6, 2019
Since their partnership with UNA-NY, Freedom United has held bi-lateral and high-level meetings with key member states to increase the pace of ratification. Learn more and get the most recent updates from Freedom United by signing the petition at p29.org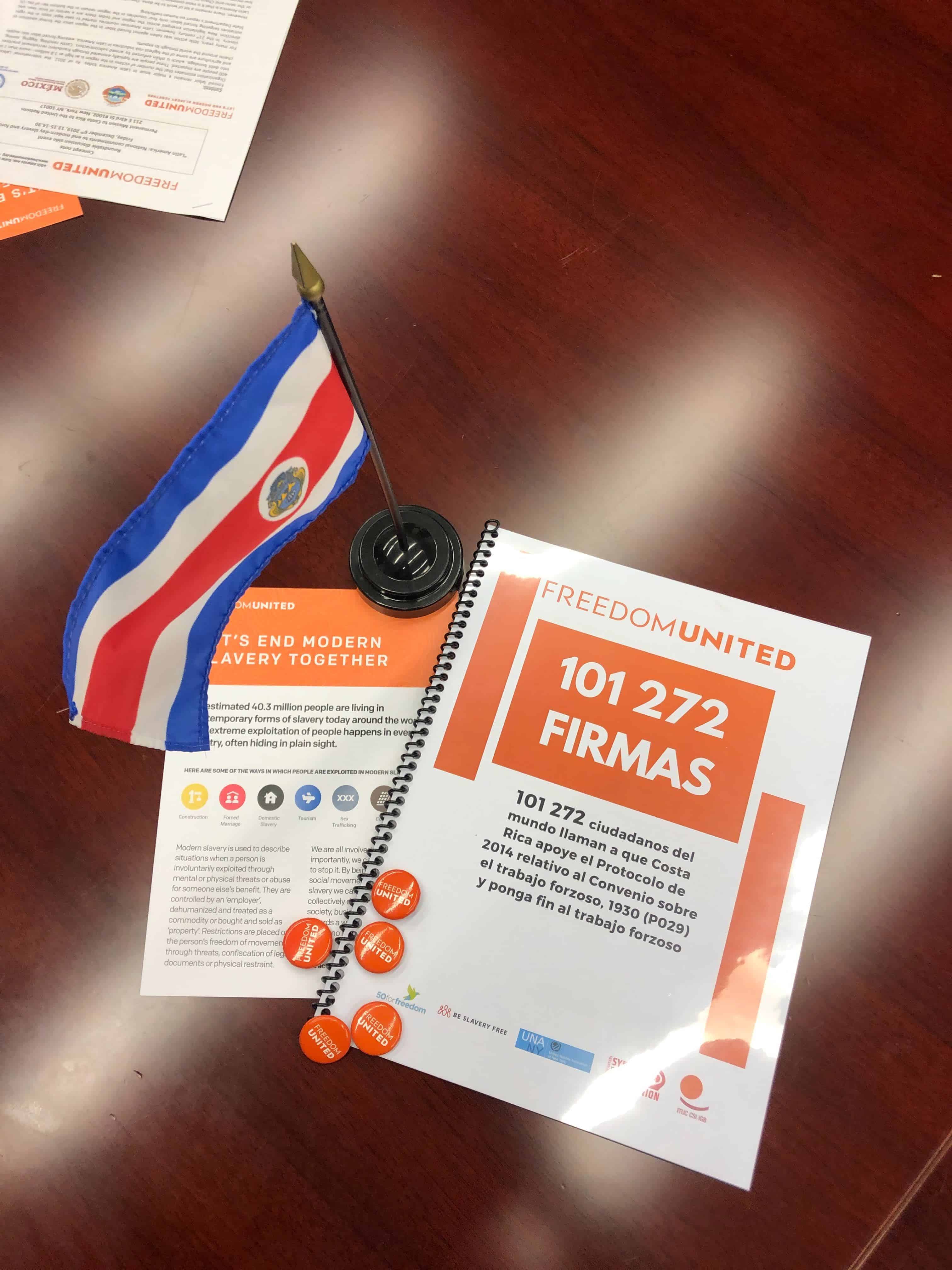 Photo: Freedom United hand in 101,272 signatures of support calling for the end to forced labor through the adoption of 2014 forced labor protocol