Is our global community beginning to accept child labor rather than being outraged by it?  This article will make you wonder…
We have seen how thousands of Nepalese girls, forced onto the streets after the Nepal earthquake, have been trafficked into India and even possibly sold into the United Kingdom. Gross abuses, including rape, have been reported in Iraq. We have heard, first hand, how Syrian refugee girls as young as eight and nine have been forced into working for exploitative employers when they should be at school. And the plight of the girls kidnapped by Boko Haram from their school two years ago in Nigeria's Borno province continues to haunt us.
This month the Global Citizenship Commission will call for a fresh commitment to end child slavery. The issues of human trafficking in our world have found their way into millions of lives on some level.  Adults and children are transported from country to country to work on farms, in factories, and in workshops.  A current report indicates a disturbing rise in children used in suicide bombs.  Why aren't we as a global community , more shocked, more outraged? 
The most vulnerable children are living in the midst of conflict and corruption, where there is discrimination and inequality, where millions are displaced.  And that displacement means more competition for even low-paying jobs.
Every country except for North Korea have laws in place that make slavery illegal, but when laws are not enforced, they mean nothing and accomplish little.  There is more child labour, more children forced begging on the streets and more girls forced into early marriage, with state authorities unable to prevent trafficking.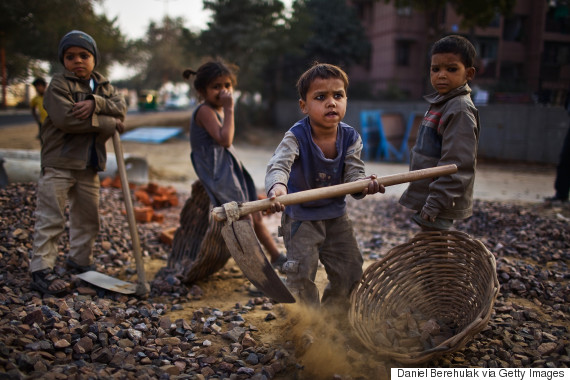 Children work nearby to their parents at a construction project in front of the Jawaharlal Nehru Stadium in New Delhi, India. (Daniel Berehulak/Getty)
To read this entire article about our global community becoming less outraged, click on the link below.
http://www.huffingtonpost.co.uk/gordon-brown/gordon-brown-slavery-human-rights_b_9715724.html