Do your buying habits make an impact?  This article explains ways you can be better heard.  When the Rana Plaza commercial building collapsed in Bangladesh three years ago, over a thousand workers died and many more were injured. Days earlier when cracks began to show, many chose not to enter the building…but the workers were forced to report to work.
Since then, progress has not been fast, but inspections are happening and safety measures are being initiated.  The Rana Plaza Donors Trust Fund now provides compensation to those who survived, and it reached its goal of $38 million in donations.
The disaster in Bangladesh reached home across the globe, because those garment makers were creating fashions worn by so many of us.  Those low-wage earning workers made items for international brands, including Canadian and U.S. companies.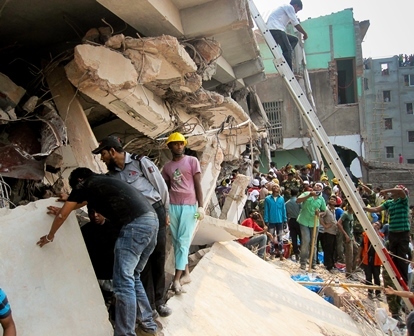 In the days following the collapse, hundreds of people helped release friends and loved ones from under the rubble. Many of these families had counted on the low-paying garment industry to help feed their children. Photo/World Vision
The author of this article said, When I am shopping, I want to do what is good and helpful, but I know it's complicated. Despite low wages and insufficient regulation, the garment industry in Bangladesh has been the key contributor to a growing economy that has helped millions of families get their first foothold in the long climb out of extreme poverty. In 2013, Bangladesh exports were worth nearly $400 billion, having almost doubled in just four years. Garment exports accounted for about 90 per cent of that overall value.
But much of the labor is unsafe and unfair. A study showed, just prior to the catastrophe, indicated garment workers in Bangladesh to be among the lowest paid in the world. Their earnings had actually decreased by 2% between 2001 and 2011, to just $117 per month. That is not enough pay to support a family.
How can consumer choices make a difference?  The author suggests these four practices:
1) Buy certified:
Research what you buy.  Look for labels like like Fairtrade and Rainforest Alliance.
2) Buy less:
Buy less and buy local and buy secondhand.
3) Support local businesses:
4) Speak Up:
As a caring and responsible consumer, talk to businesses and government about doing what is right.
To read this entire article about buying habits, click the link below.
http://www.huffingtonpost.ca/world-vision/conscious-consumer_b_9738286.html?utm_hp_ref=canada-business&ir=Canada+Business