Delhi children now have a newspaper of their own."We get pushed around and treated like garbage, because there is no one to speak for us," says the 18-year-old editor of India's only tabloid paper that is created by child journalists who live on the street…
Chandni is the editor.  And her greatest challenge is deciding which of the stories the kids write will make it onto the front page…and then soothing the egos of those whose stories don't make the cover.   "As editor, I want to play up stories that are most impactful, but many reporters get upset when their stories don't make the mark. So, yes, I do have to tread carefully."
There is team of 60 reporters from 12- to 20-years-old who put out the monthly newspaper. It is based on the happenings in Delhi and in the nearby states of Haryana, Madhya Pradesh and Uttar Pradesh. Most of the young writers are selected by NGOs.
"Many of our reporters started school after joining the paper so writing is a struggle for them," says Chandni. She explained that the paper is written in Hindi and translated to English.
The 8,000 monthly papers cost 2 rupees. It doesn't make a profit, is funded by NGOs, and is free to police stations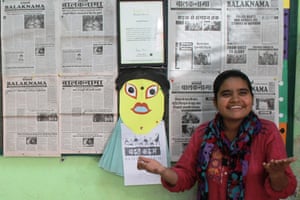 "We filed a report on how the police was forcing children living in railway stations to retrieve the bodies of people who were killed on the tracks," says Shambhu, 20, a senior reporter. "Imagine forcing a child to go down those dangerous tracks and retrieve bloody, mangled limbs!"  Mainstream news outlets picked up Balaknama's report and it led to a huge outrage. Eventually, the National Committee for Protection of Child Rights stepped in and action was taken against the police. An estimated 51,000 children live on Delhi's streets, some as young as five-years-old. They make a living by begging or rag picking and are subject to verbal, physical and sexual abuse. Many are abandoned by their families or have run away from home.
To read the entire article about Delhi children, click on the link below.
http://www.theguardian.com/global-development-professionals-network/2016/apr/14/street-children-journalist-balaknama-newspaper-delhi-india?CMP=ema-1702&CMP=