Breaking silence. Khadidja Zidane sat on a mat at her home in 105 degree temperature as a fan blew some relief on her. She described how it felt to testify against a man who had raped her three decades earlier…
The rapist was Chad's dictator from 1982 until 1990.  His name is Hissène Habré, In May he was convicted of atrocity crimes, including the rape of Khadidja who was only 26-years-old at the time.  The conviction was by a special court Dakar, Senegal, where he has lived since he was overthrown.
It was the first time in a human rights trial that a head of state had ever been convicted of personally committing a sex crime. Habré was also convicted for sending Khadidja and other women to a military base in the desert north of Chad as sexual slaves for his army, as well as for overseeing widespread torture and war crimes.  I've known Khadidja for 16 years, as I worked to build the case against Habré, and I had known most of her story: how she had been suspected of helping Habré's Libyan enemies, tortured, imprisoned in Habré's presidential palace, and sent to the north. But she always said that if she ever came face-to-face with Habré, she would have something else to tell.
[Khadidja Hassan Zidane holds a picture of herself before her arrest and another while she was testifying at the trial of Hissène Habré in N'Djaména, Chad. © 2016 Reed Brody for Human Rights Watch]
The author was in court when Khadidja told the court that "the president himself raped me four times." The judge looked puzzled.  He asked which president she meant.  Hissène Habré she said in Arabic, "there wasn't any other president."
Khadidja explained that she was not scared to tell her story with the former tyrant sitting only 15 feet away. "No, I felt strong inside. When I was finished, I felt that a great weight had been taken off me." Habré was silent throughout his trial.
After the landmark verdict, several of the women who had been forced into sexual slavery. spoke proudly about breaking their long silence.   The women all seemed excited about the convictions, but actually happier to have told their story in his presence.
Kaltouma Defallah was a stewardess sent with Khadidja and others on desert convoy where they were force to do the soldiers' bidding. She said after telling her story in court, "When I saw Habré there, I no longer felt any hatred. Now I was the strong one, telling my story, and this man, who was the all-powerful dictator, who tried to make 'things' out of us, did nothing but listen."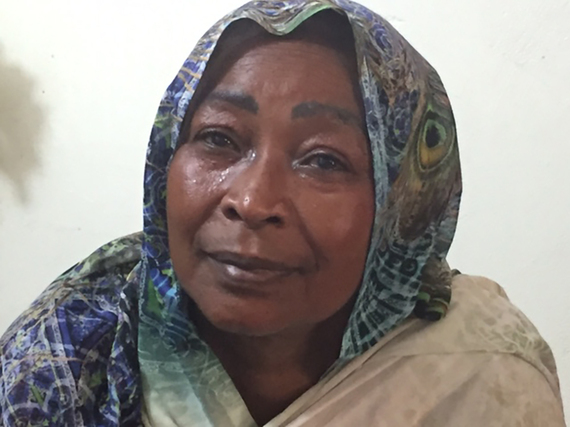 [Kaltouma Defallah in N'Djaména, Chad. © 2016 Pierre Hazan]
The most dramatic parts of the trial were the women's breaking silence with their testimonies and the verdict which has been called breakthrough for sex crimes prosecutions. However, they hardly mentioned the sexual violence.
Jacqueline Moudeina, who helped them through their stories, said, "This isn't something women talk about. It was very important that we get this out in court." Moudeina and her colleagues had the charges amended to include sex crimes, and the judges agreed after hearing the women.
To read more about the women breaking silence, click on the link below.