Ukraine trafficking crisis is a messy combination of sex and lies…
There is a hospital in Ukraine that is secret.  It has no sign, the address is not disclosed, and the patients' names are guarded.  It's staff of 18 specialists work daily to mend the lives and spirits of victims of human trafficking.
Dr Olga Milinchuk opened the center in 2002, calling it the International Organisation of Migration (IOM) as a means of caring for young women who had escaped sex trafficking.  Today, the center treats men and women of all ages and from different experiences of trafficking–sex work, forced labor, abuse, and debt bondage.
She has treated 2,000 Ukraine trafficking survivors and estimates that 95% are victims of forced labor.
They come with gastric and intestinal diseases from malnourishment, sexually transmitted diseases, and psychiatric problems such as post-traumatic stress disorder. "The youngest was three years old, trafficked to Poland for work begging with her mother and five-year-old sister," she says. Forced labour is difficult to detect. Traffickers deceive victims into travelling without valid visas, keep workers trapped in debt bondage and reliant on their employers for food and accommodation, or stop unpaid workers from leaving through violence and intimidation.  "They take a mother with two children, then lock one child away so that when the mother is out begging, the traffickers know she will return for the other," she says. "The mother had been promised a job in agriculture and was told to bring the children for kindergarten."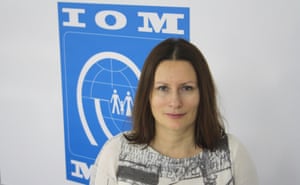 The Ukraine is the second poorest country in Europe and engaged in a conflict with Russia. Trafficking has been a hub there for a long time and the IOM guesses that 160,000 have left the country since 1991, victims of trafficking.
Feature photo:  An installation in Kiev in 2014 aimed to raise awareness of human trafficking: the silhouettes represent the thousands of Ukrainians who have been trafficked since 1991, according to the IOM. Photograph: Sergei Supinsky/AFP/Getty Images
To read the entire article, click on the link below.
http://www.theguardian.com/global-development/2016/feb/04/sex-lies-psychological-scars-ukraine-human-trafficking-crisis