ICT companies like Canon, Hitachi, Samsung are vulnerable to slavery in their supply chains. But a new report says many must do more to stop it…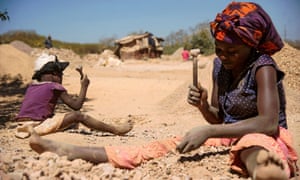 KnowTheChain is a US supply chain accountability effort.  It benchmarked 20 global ICT companies on their efforts to ensure that they don't have any forced labour–which is a form of human slavery–in their supply chain. The average score for many  including auditing processes, recruitment, and worker rights was 39 out of a possible 100.
Killian Moote, from KnowTheChain, says "The $250bn ICT sector has seen almost unprecedented growth in the past decade, yet our benchmarking shows there is still a lot to be done to address the very real risks of forced labour in ICT corporate supply chains. "What is clear is that the ICT sector is at the start of a really long journey when it comes to effectively dealing with this challenge."
The KnowTheChain benchmarking report also scores and ranks individual ICT companies on their transparency in addressing the threat of forced labour. HP was given the highest score, with 72 out of 100, followed by Apple. Other brands fared less well, such as Hitachi, which scored 34 out of 100, and Canon, which scored 12. A spokesperson for Canon said the company conducts annual surveys on the status of suppliers' compliance initiatives, "Based on the surveys that we have conducted, to date, there have been no indications of such exploitations within our supply chain. However, we take this subject very seriously and we will study the results of KnowTheChain's report carefully to evaluate if there are any actions we could take to further improve our standards."
A spokesperson for Hitachi declined to comment and Samsung had not responded to a request for comment at the time of this article's publication.
KnowTheChain decided on these 20 ICT companies based on size and whether they created products that could be vulnerable to conditions of forced labour.
The International Labour Organisation estimates that forced labour generates $150bn in illegal profits every year.
To read more about Tech companies like Hitachi, Canon, Samsung, click on the link below.
http://www.theguardian.com/sustainable-business/2016/jun/23/hitachi-canon-ict-companies-forced-labour-supply-chain-benchmark-report
Chip in and help end modern slavery once and for all.