In a powerful speech at the British Parliament on Wednesday, Payzee Mahmod shared her experience of child marriage and urged the government to criminalize the practice once and for all.
Freedom United powered Payzee and a strong coalition of organizations with over 100,000 voices calling for an end to child marriage in the UK.
In England and Wales, 16- and 17-year-olds can still marry with parental consent. But Payzee, who was married against her will at age 16, argues that the exemption is easily exploited by families and partners to coerce children.
Payzee paid tribute to her sister, Banaz, who was murdered in a so-called "honor killing" after escaping the child marriage she had been forced into by their father.
Payzee herself endured abuse at the hands of her much older husband before managing to escape after two years of marriage.
The Thomson Reuters Foundation reports:
"Just like that, my marriage happened. There was no way I could have said to my parents, 'I don't want to get married'. I just had no choice," she said.

"It is all of our responsibility to do something about this because there are so many children at risk."

Mahmod, who managed to escape the marriage following her sister's death, said a law would have allowed her to stand up to her parents.

"I'm 33 now and just about recovering and becoming the women I want to be. It took away my childhood, it took away my education."
Her remarks were followed by a panel discussion in which Payzee was joined by Sara Browne of IKWRO, Natasha Rattu of Karma Nirvana, Larissa Kennedy of Youth For Change, and Elin Martinez of Human Rights Watch.
Sarah Champion and Pauline Latham, two MPs that have most vocally supported Payzee's mission, also took part in the panel discussion.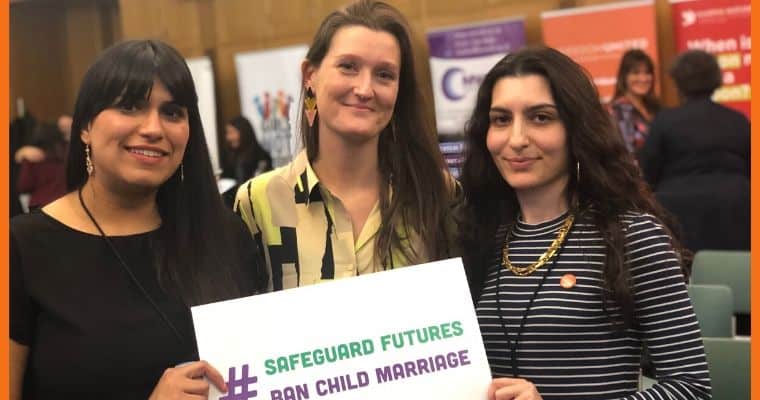 "Coercion can be so subtle. It can take a long time to come to recognize coercion was used. It's powerful. The onus shouldn't be on the child. No marriage under 18, full stop," said Sara Browne of IKWRO.
The Marriage and Civil Partnership (Minimum Age) Bill was introduced to the House of Lords earlier this week, a promising step towards ensuring stories like Payzee's aren't repeated.
The panelists stressed the power of collective action in pushing for the Bill's creation, arguing that small contributions accumulate to create large-scale change.
MPs and peers in the audience encouraged constituents to take action to support the Bill by writing letters and setting up meetings with their MPs.
"If everyone made an appointment to see their MP and tell them they have to support this Bill it would be very powerful. If you can't make an appointment, write a letter," urged Baroness Jenny Tonge of the House of Lords.
Freedom United has gathered over 100,000 signatures calling for the UK to heed Payzee's calls and outlaw child marriage. Add your name today.