You can make a difference!
Start a fundraiser to raise awareness with your friends and family by asking them to support your commitment to a world without modern slavery.
Watch the video to hear why Olivia started a lemonade stand to help "kids who have to work all the time."
Start a fundraiser for freedom.
Tip: Check out the ideas below!
Ask your friends and family to donate.
Share your impact and thank your donors.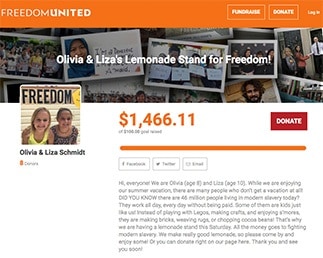 Go the distance to end exploitation
Nick and his team swam the Bosphorus and raised $16,989.
Stand up to human trafficking
Sisters Olivia and Liza raised $1,466 with a lemonade stand.
Pay forward the gift of freedom
On her birthday, Dee's $325 fundraiser was a piece of cake.