WalkFree.org is now Freedom United

February 15, 2017 – We are delighted to announce our new name, which better represents the collaborative nature of our work –
Freedom United: "One Voice to End Modern Slavery."
Our new website will encourage people around the world to get educated about this complex issue, get involved in advocacy, amplify the message, track their impact, and more. Existing members will receive early access in the coming weeks. FreedomUnited.org will encourage millions more to join the cause, through a Learn – Act – Give model.
DASHBOARD
Joining will unlock access to a personal dashboard to track your anti-slavery activism, provide clear next steps, and show your personal impact.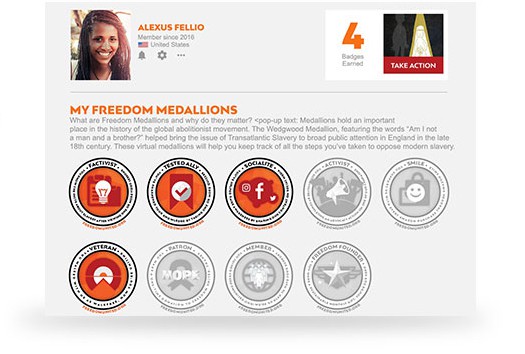 We hope you'll help us get the word out, and join our Thunderclap to share a one-time message on social media to announce Freedom United to the world, and ask people to stand united against modern slavery. Don't have social media? Then share this page with your family and friends.
Background
In 2012 a campaigning initiative, the Walk Free Movement to End Modern Slavery was launched on walkfree.org by an Australian entity alongside The Global Slavery Index and more. In 2016 the Movement was spun off to an independent entity in the U.S. founded in 2014, and re-branded as Freedom United in 2017. The website walkfree.org returned to the Australian Minderoo Foundation under which they bought together all their anti-slavery initiatives.